Famed Clemente Artist Unveils New Work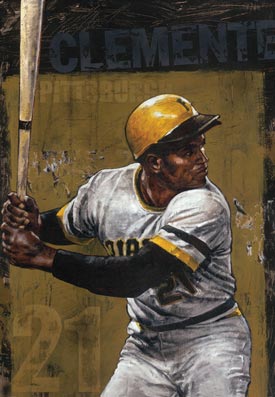 By Nate Guidry, Pittsburgh Post-Gazette
Stephen Holland's paintings of sports figures just keep on coming.
Several years ago, he started with Muhammad Ali, and over the years he has captured on canvas everyone from Sandy Koufax and Wayne Gretzky to Michael Jordan.
In 1993, the Santa Barbara, Calif., resident received the Sports Artist of the Year award from the American Sport Art Museum and Archives.
His portrait of Ali, originally painted for the Silver Anniversary of the Victor Awards, which honored Ali as the "Athlete of the Century," was selected by Ali's wife as the image to represent him for his 50th birthday party.
Famed Artist Unveils New Work
This weekend, during the Major League Baseball All-Star FanFest, he'll unveil a new giclee painting of Roberto Clemente, the former Pirate and first-ballot Hall of Famer who was killed in a plane crash on New Year's Eve in 1972. Clemente was bringing relief supplies from his native Puerto Rico to earthquake-damaged Nicaragua.
The original painting of Clemente sold for $25,000. During this weekends exhibit, Art of the Stars, which represents Holland and others, will have giclee's available for around $1,950. Holland also was to be on hand to talk about his works.
Before painting Clemente, Holland said he consulted with his brother, who is a huge Clemente fan. Among the things they talked about were: What aspects about Clemente made him great? Also, what were his physical attributes, things like his size and what he looked like?
"You can look at many different photographs about athletes, and they are all different," said Holland, speaking on a phone from the north shore of New Orleans, where he is visiting his in-laws. "For example, you can look at a picture of Magic Johnson and any photograph looks like him. But if you do a painting about Johnson and you don't show him with that baby face, it doesn't look like him.
Afterward, Holland perused hundreds of old high-resolution photographs of Clemente.
"One of the things about Clemente was that he could hit a ball anywhere," he said. "You could throw it over his head and he would hit it. He was also very youthful. So I tried to get that image in the painting. Something that is artistic and true to the feeling of Clemente."
Holland keeps the background of the painting loose but focused. It looks like graffiti on acrylic. The figure is painted with oil paints, depicting Clemente's toughness and grittiness.
"I tried to depict Clemente in dramatic action without it being posed," he said. "With sports figures there's always dynamic action and drama."
Holland has been an artist all his life -- jokingly, he said he was told by his mother that he came out of the womb with a pencil in his hand.
Holland grew up in New York in the 1960s, tried his hand at art but never put a successful career together until later in life. He didn't become a huge sports fan until he bought some boxing magazines because he wanted to draw figures in action with the least amount of clothes.
"Back in those days you really couldn't get many pictures of people without clothes," said Holland. "So I started drawing from the boxing magazines, and I loved it. I was more of a football fan so I bought some football magazines and started drawing football players, and that was fun. I eventually moved to basketball and baseball."
During the course of painting athletes, Holland started reading their stories and some of the things they had to endure to become successful.
"Commitment, focus and discipline were some of the things I kept hearing about," said Holland. "I started training myself in those areas and then I met my current wife who was an old friend of mine. We ran into each other and I really wanted the relationship to happen and I said, 'I know this is a very classy lady and I'm not going to be able to keep messing around and hold this relationship together.' At that point, it was like everything I knew I should be doing, I did."
After Holland and his wife J'Nelle were married, the couple started a limited-edition printing business.
"One of the first things she asked me was where did I want to start," said Holland. "I said, 'Might as well start at the top with Muhammad Ali.' We contracted his agent, and we put together a project.
The Ali project led to hundreds of other projects, including portraits of Joe Montana, Babe Ruth, Mickey Mantle and Clemente.