Paint By Numbers, Jersey Numbers


WHEN DANIEL CARRANZA and his wife started decorating their new house, the last place he expected to find inspiration was at a sports memorabilia show.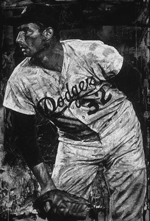 Pitcher at an exhibition: a Sandy Koufax Portriat by Stephen Holland
But when Mr. Carranza, 33 years old, saw an oil portrait of Mickey Mantle at a show in 2003, he knew it had to hang in his entertainment room. Since then, the Modesto, Calif., auto-paint-store owner has collected more than 30 athlete portraits. He has so many now that he has to rotate his collection with each sports season. But in spite of his growing set of portraits, Mr. Carranza doesn't consider himself an aesthete.
"I'm a sports fanatic," he says, "not an art collector." The market for sports art, or "guy art" as it is sometimes called, is on a winning streak. Gallery 319 in Santa Monica, Calif., which started carrying sports-themed work two years ago, says the genre now account for more than 30% of its sales. "We usually keep a sports piece in the front window" to attract a non-artsy crowd, says Melissa Menard, the gallery's director.
Charles Saffati, president of Barrington Gallery of London in New York, says that his sports-art sales have risen about 20% per year for the last three years. "It's such a huge market because it's not limited to art collectors," he says. Most of his sports-art clients are first-time art buyers.
As more men get involved in the design of their homes, they are not as interested in the usual abstract paintings and landscapes. "Men like to design big and bold," says Darlene Jurow, a Lafayette, Calif., based interior designer."When it comes to artwork for 'guy space,' men like action."
Guy art's popularity has helped certain painters establish a bustling business. LeRoy Neiman, well-known for his brightly colored images of sporting events, enjoys an active resale market: A 1998 Neiman portrait of Joe DiMaggio sold for $3,000 in1998 and now sells for about $15,000. Stephen Holland, a newer artist who has painted Tiger Woods, Kobe Bryant and Muhammad Ali, is selling works for between $4,000 and $35,000. Sports-themed art is as old as discus throwers on ancient Greek vases, of course, but it's recent popularity is rooted in contemporary art trends, says art historian Anna Andrzejewski of the University of Wisconsin-Madison. Pop art and postmodernism embraced imagery from popular culture, and sports painters are one product of those movements, Dr. Andrzejewski says.
Not everyone is a fan. Bob Glick, a 48-year-old insurance executive, has portraits of Yogi Berra, Hank Aaron, Jackie Robinson and other baseball legends in his Southington, Conn., basement. When he tried to hang a portrait of Ted Williams in the living room, his wife cried foul. "That would look better in your office," she said diplomatically. Now battling in Mr. Glick's workplace gallery? Ted Williams.