This month issue of Art Wold News features an article about how Tom Everhart, Limelight Agency and our partner galleries have raised the bar on giving the collector an experience as special as the art.

GALLERIES VISIT TOM EVERHART'S STUDIO
Tom Everhart frequently opens his studio in Venice, CA, to galleries, as well as serious collectors of his work. These visits are arranged by Everhart's representative, Limelight Agency.

"Studio visits are a big part of working with the high-ticket collector," says Limelight's Danny Stern. Sometimes the studio is used for collector shows. These are planned events like gallery shows, but instead of the artist meeting collectors at a gallery, they get to meet the artist in his own space. "Galleries from all over the U.S. have done this, and the events have been very successful. His Japanese galleries have done this every summer for years." The benefits are multi-fold, he says. "For the gallery, it raises their importance in the eyes of the collector. They can demonstrate that they have a real relationship with a very active artist, and that they are able to offer a collecting experience that will never be forgotten." This, he says, may be as little as something that is referenced in a photo from their visit, or casually mentioned during the presentation of the art in the gallery. "Everhart once told me when I was visiting him in Venice… For the collector it answers what all collectors are looking for when they buy a piece art;



Being treated as someone important.
Getting much more for the art purchase then just something to hang on their wall...an adventure.
A fully dimensional experience.
Buying from a gallery whose role with the art and artist measures up fully to the importance of the art and the artist himself.


As Mr. Stern says, "Like the credit card ad would go: Everhart paintings $14,000. A visit to the artist's studio... Priceless." However, it is when it comes to the sale that the biggest difference is seen, he asserts. If they make the journey to come to a studio experience like this, they will nearly always buy, typically buy much more than they would in the gallery. "And as a side note, they will not haggle in the artist's own home. This is a very powerful selling tool that we have placed in the hands of all of Everhart's galleries." Currently 20-plus galleries represent his work, some with multiple locations.

And then, of course, there is the ambience itself. Tom and Jennifer Everhart's home and studio is located in the heart of the action on one of LA's hippest streets. The space itself is an 8,000- square-foot, two story building with light spilling onto the floor from cathedral ceiling skylights. It is just a few blocks from the beach where Tom rides his bike every day. The building contains a gallery space with polished concrete floors that reflect Everhart's latest finished works on the walls. There are three other large workspaces for projects in various states of progress, often for shows months down the road. Right now most of them are covered with the 60 or so paintings for his upcoming show in New York at AFA Gallery. This is set to coincide with the November debut of the Peanuts movie from Blue Sky Studios and 20th Century Fox Animation. (for which Tom Everhart served as a creative consultant).

Art World News 2015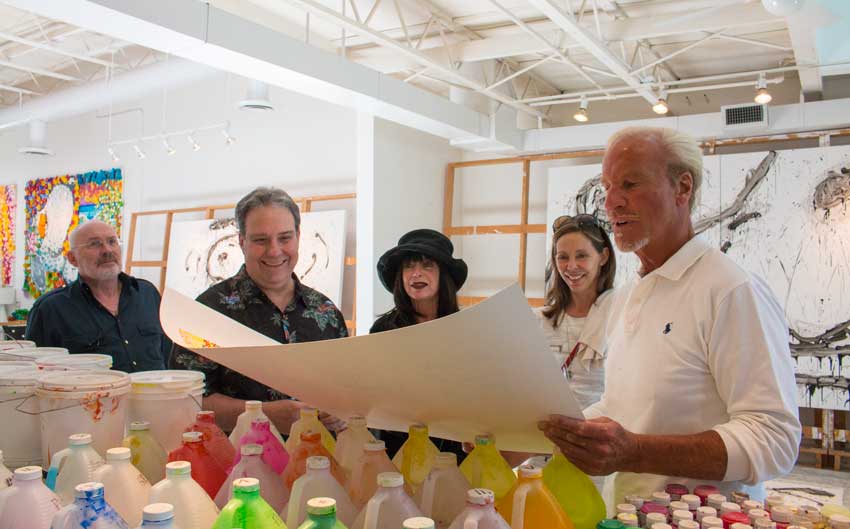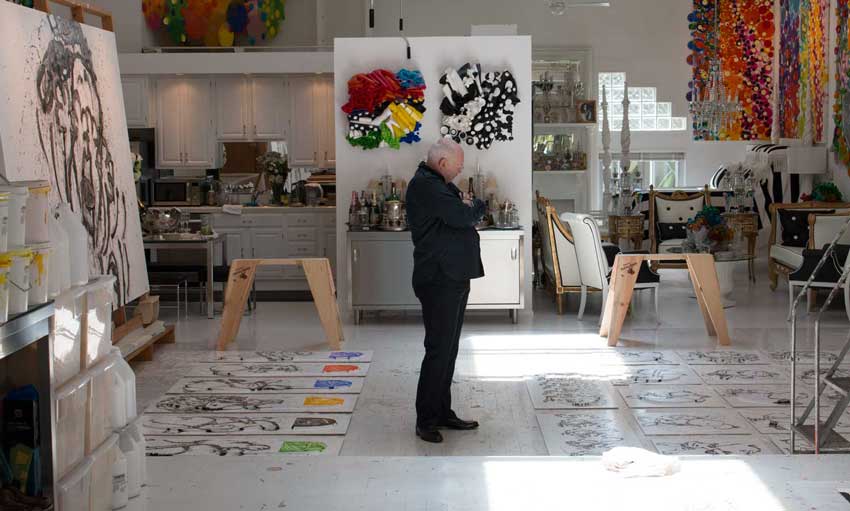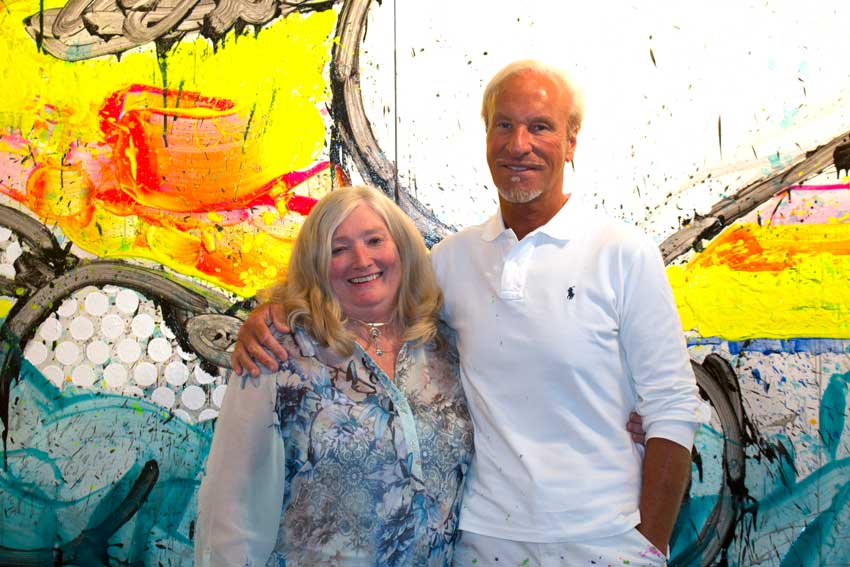 Valerie Jackson, owner of Ann Jackson Gallery, Roswell, GA, with Tom Everhart whose painting "Super Bad" is shown.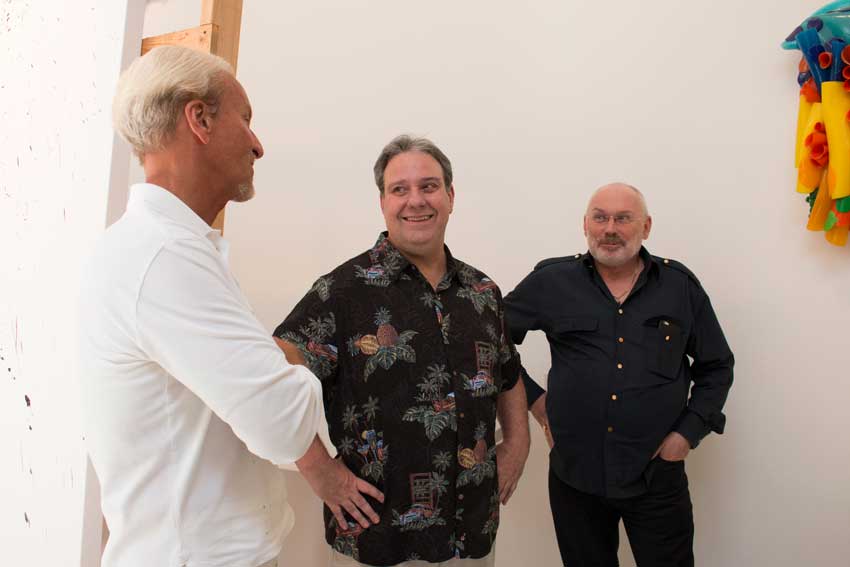 Tom Everhart, left, chats with Dennis Rae, right, owner of Dennis Rae Fine Art, San Francisco, and Michael McLaughlin, director of Dennis Rae Fine Art, St. Helena, CA.