Stephen Holland Paints Manny Ramirez
Literally tens of thousands of players have now walked on the crushed brick of major league ball parks. But in the end it's been just a few heroic names like Ruth, Robinson, DiMaggio, Koufax, who's personalities, stories and great feats have collectively given definition to a game that is not easily defined.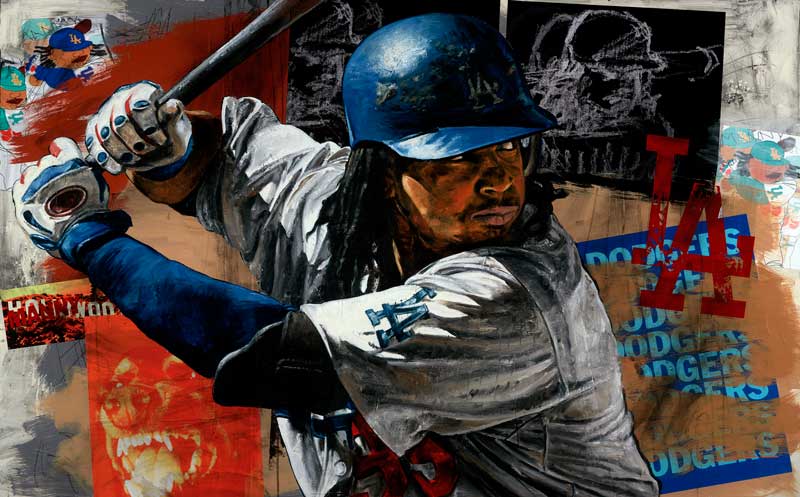 Manny 27"x 43" Hand Enhanced Giclee on Canvas, edition of 99


And of those pillars of baseball (all of whom have been painted by artist Stephen Holland), an even smaller number have had the power, single handedly, to change the course of baseball. From time to time, in the broad history of baseball, a player comes along that goes far beyond playing with exceptional ability, their mere presence on the field has the power to inspire an entire team to perform beyond both their, and even the fans greatest expectations. So influential that their name becomes, in time, the battle cry chanted on the road to the championship. And for the 2009 Dodgers, Manny Ramirez is that name.

Winning the World Series may be a distant memory for those of us who bleed blue, but not for Manny Ramirez, who already holds two championship rings. But for the Dodgers, this is the first time in 20 years that they the find themselves on a determined path to the Playoffs. Leading that charge is their team mate of just two seasons, Manny. As such, it's only fitting that the Dodgers own artist Stephen Holland capture both the man and the spirit of this moment that no fan will forget.
Danny "blue blood" Stern
Limelight Agency