Holland Paints Tom Seaver

We have just a couple signed limted edition prints left. Please contact us directly now if you'd like one
info@limelightagency.com

Although loved and embraced by fans, the Mets earned their warmly regarded nickname of the day, the "Lovable Losers". From game one on, the Mets suffered as an underdog of the league, getting very few good breaks and even fewer wins. Yet despite the hard days, somehow the fans love for their team was all the more galvanized.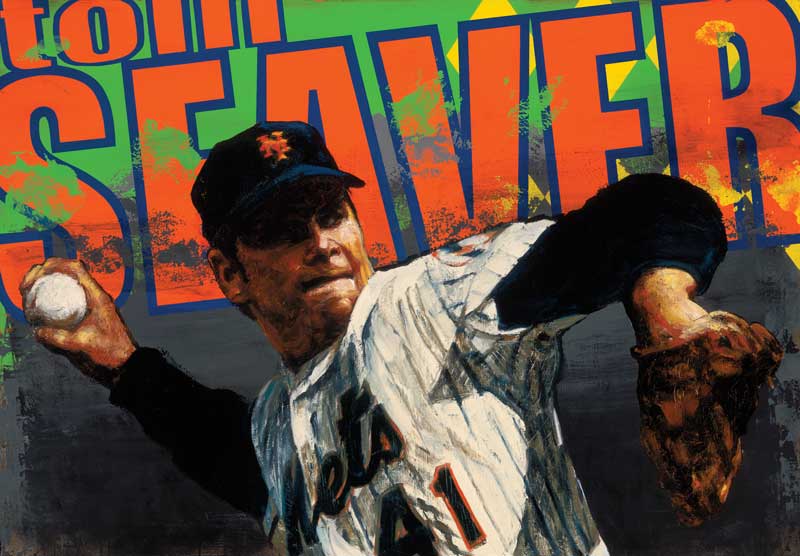 (signed by Tom Seaver) 28" x 41" Giclee on Canvas Edt 69 - total edition 139
But in 1967 a spark was lit under the team whose flicker was at first only seen around Flushing Meadow, NY. It was Tom Seaver's Rookie year and, by mid-season, the spark was a barn-burner. In that first year with the team "Tom Terrific" would be named National League's Rookie of the Year and would be invited to play in the All Star Game as well. With every fast and famously accurate pitch Seaver threw, the team ushered in a new day for the now "Amazin' Mets.
By 1969 Mets fans of NY had the team that deserved the devotion they always gave it. And by the end of that year the now local and national hero Tom Seaver, would take them to the World Series where they would win the first ever world championship for the team, and of course their thousands and thousands of fans. They were now the "Miracle Mets."
Holland in his painting of Tom Seaver (also signed by Seaver), has captured the two key elements that tells this classic Cinderella story. He's first captured Seaver in his prime with that famous fastball grip. Holland also reminds us of the joy Seaver brought to well deserving fans, through what we see behind him - his name being proudly heralded from the bleachers in bright, bold Mets Orange from the hoi polloi of Nassau County and Queens, NY who earned their championship team.