Stephen Holland Paints Mickey Mantle


This year fans will say goodbye to the grand stage of baseball in New York, as Yankee Stadium will be taken apart brick by brick at the end of the 2008 season.

Amongst the seats, scoreboards and pipes that will come out of this one-time shrine to the game, will be the metal sheets from the the outfield's third deck roof, only touched before by the men that built it, those who maintained it and three very fast balls, hit by a very ordinary person who happened to be an amazing ball player.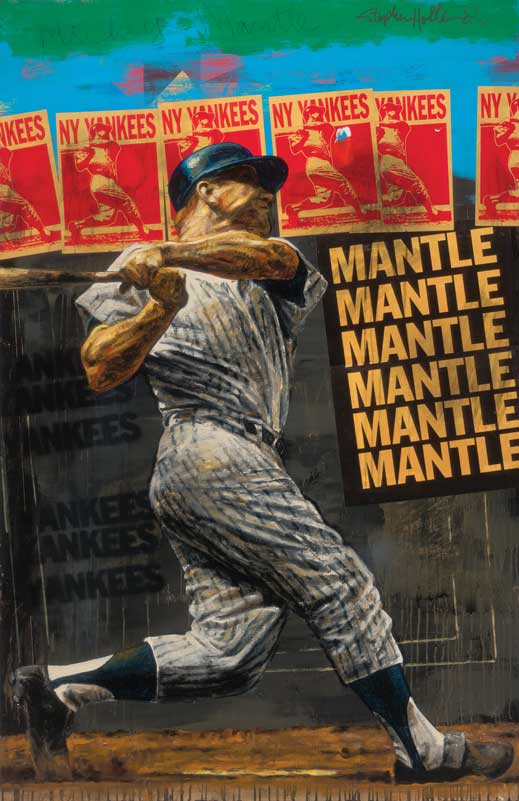 The Mick Edition 56 - Total Edition 157 41"x 27" Giclee on Canvas
Mickey Mantle (The Mick) came from the heart of farm country, Spavinaw, Oklahoma, and was brought by his raw talent to the biggest, brightest spot in all of baseball.
While there he amazed fans by creating staggering records, some still not touched to this day, including the most World Series Home Runs (18).
Stephen Holland over the years has painted all the greats of the diamond who performed super human feats inside the same stadium of all stadiums, Babe Ruth, Joe DiMaggio, Lou Gehrig, Yogi Berra, just to name a few of baseball's gods, who displayed the best of their gifts in this legendary park.
But, The Mick is different. In the 18 years playing in the company of the biggest personalities in the game, he was known for remaining the same crew-cut uncomplicated man. He was perhaps best described as normal or more to the point, like one of us.
Mantle made every little league player believe that had a chance to play in the world series one day. He made everyday people feel that his triumphs were theirs to share in as well.
Normally it's the challenge of Holland to rein in the larger than life personalities along with their feats and lore into a single painting that captures it all. But in painting Mantle, Holland dove deep into the heart of an otherwise ordinary person who did the extraordinary and found the super hero that Mantle and few other seemingly "regular people" have living beneath their skin.
Danny Stern
(Sports Writing Idiot Savant)
Limelight Agency