Stephen Holland Yogi Berra

There is no mystery at all, to why Yogi Berra should join the long list of famed athletes Stephen Holland has painted. Yogi, in his career, achieved amazing feats; fifteen-time All Star, winning the AL MVP three times, in 1951, 54 and 55. He played in 14 World Series and holds numerous World Series records, including most games by a catcher (63), hits (71), and times on a winning team (10), first in at bat, first in doubles, second in RBI's, third in home runs and BOB's. Yogi also hit the first pinch hit home run in World Series history in 1947.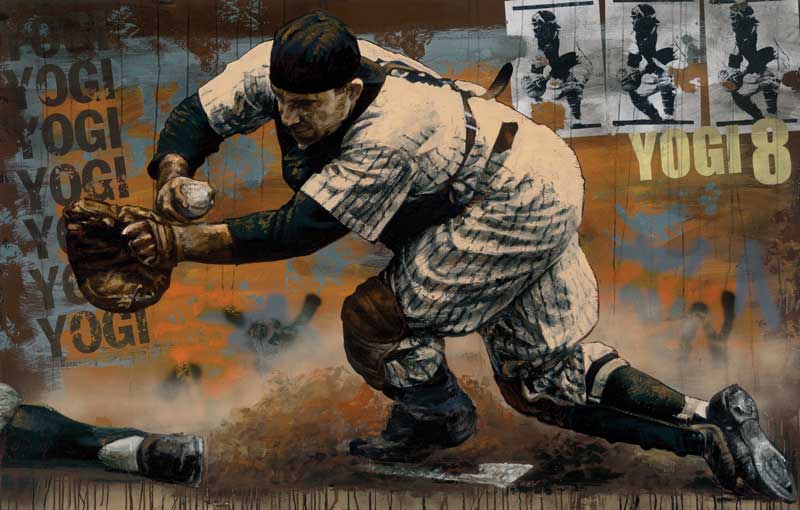 But that's not who Yogi is to Stephen Holland.
Yogi was the guy behind the plate, that a future world famous sports painter would see once he and his chums successfully snuck into the park on hot summer afternoons in Stephen's home town, (Bronx - New York.)
Much more then a champion of stats, Yogi was one of the few players who created the personality of baseball of the time. From his artful distracting chatter behind the batters on deck to his famous "Yogi-isms" in the press, he added so much more to the game then just his playing skills alone.
This month Yogi and Stephen were able to meet for the first time, as Yogi Berra came out to be a part of the unveiling of his new limited edition by Holland.
"It's an honor to paint such an iconic legend as Yogi Berra," said Holland ,"I hope my work captures the true essence of one of the greatest baseball players of all time. It was my desire to create a soulful and active piece that reflected the New York landscape as well as the emotional and physical nature of one of the game's greatest competitors."