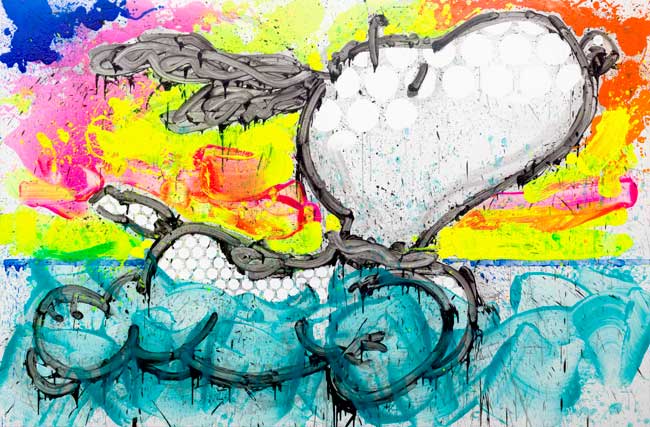 EVERHART REFLECTS ON SUPER BAD
If our eyes are indeed the windows to our soul, then our soul must be seeing back through those windows in need to grow. That would mean that new ways of seeing mean new ways of growing. And, how can a soul be alive if it is not growing.
The soul in "super bad" started with fluid, flowing black marks on a blank white surface, much like black ink pen nib lines made with cheap sloppy hardware store brushes. During this process there is usually a collaboration between the way I see making marks and a Schulz-like state of mind, that has grown and evolved for the last 25 years.
When the black paint line drawing of Snoopy was finished, it appeared as if he was flying in mid air, and actually remained in that state for nearly a year. After seeing the world through a few trips back to my French Polynesian studio, the bottom half of his body was covered in waves of transparent aqua blue roller brush marks. He was then seen as swimming in a Tahitian lagoon.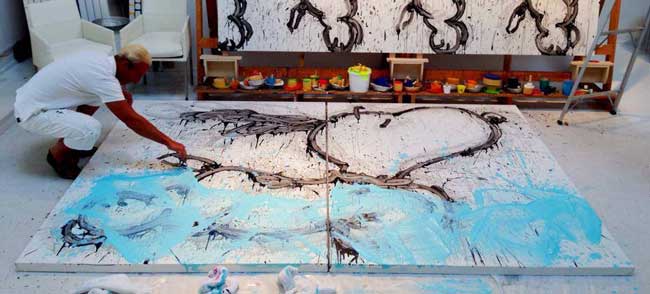 Besides the massive sky above him, there is one straight ultra marine blue horizontal line referring to the lagoon's reef that divides the work in two; Sky and water. The paint mixtures have been altered in a new way, poured on to the flat surface and manipulated to look like flowing water. I have often felt that changing materials and the painting process to the next one, as swimming from one island to the next one.
Throughout the 25 years of visual Schulz-like subject matter, the soul of the work has had to grow through always seeing the making of painting in a new way in order to remain alive. Like the 70s funk music that this work was created with and named after, "I got soul and I'm SuperBad"
– Tom Everhart
The details:

Super Bad
By Tom Everhart
Image 26" x 40"
Paper 31" x 45"
Mixed media print on deckled edge paper
(giclee and silkscreen)
Edition 125
Artist Proof 20
Printers Proof 10