Sun Art Critic

Snoopy will be there tonight, all 15 feet of him. So will Lucy, having come from Charles Schulz via Edvard Munch. And Peppermint Patty, sporting a huge wig that makes her look like a refugee from a casting call for the musical "Annie."

The Peggy & Yale Gordon Center for Performing Arts in Owings Mills will have a visual art component ­– a gallery to be inaugurated with a show of the "Peanuts Paintings' by Baltimore resident Tom Everhart.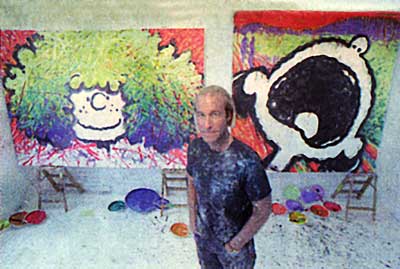 Based on perhaps the worlds most famous comic strip, the "Peanuts Paintings" have had international outings in recent years, shown from Los Angeles to Paris and Rome as part of a "Peanuts" 40th anniversary exhibit of Charles Schu;z's original drawings for the strip. "He [Schulz] has been incredibly supportive of this work," says Everhart.
"I think they're wonderful," says Schulz speaking from his studio in Santa Rosa, Calif.
The works grew out of Everhart's twin careers as painter and commercial artist, and had their genesis in a life-threatening illness that befell him in 1988.
Now 41, Everhart grew up in San Francisco, but has had a studio and home in Baltimore for a dozen years. He used to divide his time between commercial work and lush garden paintings that found a ready market on the West Coast, Where he also kept a studio for years.
In 1980 he was asked by the Beckert Group, a Baltimore design firm he worked with, to come up with some "Peanuts" drawings and concepts for a marketing proposa"l they wanted to make to the "Peanuts" people. When Schulz saw Everhart's work, the artist says, "He liked them. He was astonished that I could draw the line like he could. It was more a painter's approach then a graphic artist's approach."
Since then Everhart has been one of the handful of people authorized to draw the "Peanuts" characters for advertising and similar work. He has drawn "Peanuts" characters for everything from Metropolitan Life Insurance advertisements and a Franklin Mint Plate to Nancy Reagan's "Just Say No" campaign.
But the "Peanuts" subject matter remained separate from Everhart's paintings until he was laid up with cancer seven years ago. "I had a stack of the 'Peanuts' strips next to me in the hospital, along with art history books and my other drawings and the two just came together," he says.
He began doing "Peanuts Paintings" the next year, and to date has completed "just under 30" separate images, with multiple versions of some of the them, The first was "Schroeder's Toy Piano," done with a brush stroke that owed something to abstract expressionist Joan Mitchell.
Subsequently he has done a "Snoopy's Doghouse" series based on Monet's cathedrals, and a "The Scream" series starring Lucy and based on Edvard Munch's famous image. Paintings from both series will be among the seven in the Gordon Center show that runs for a month beginning tonight. Also appearing will be "No Way Out" a 15 foot-long, 50-foot-high canvas featuring Charlie Brown's dog Snoopy: Peppermint Patty in a wig in "Big Hair"; and the original, first version of "Schroeder's Toy Piano."
So far, the "Peanuts Paintings" have not been reviewed by critics, according to Everhart. But Charles Schulz is resoundingly in their corner. "His brush stroke is admirable, and his color is getting better all the time," Schulz says. "I'm extremely flattered the subject is worth the attention he gives it."
This will be the first local show for Everhart, who now divides his time between Baltimore and London that's one of the reasons Gordon Center director Nancy Goldberg decided to do a "Peanuts Paintings" show. "It's a premiere for him and a Premiere for us," she says.