By Leslie Radin

Good Grief!

The Peanuts gang has almost come to life in a snow-dusted scene of glowing animation at Lakeview Square.

It has taken a crew more then 30 hours over three nights to assemble the complex scene designed by Tom Everhart, art director of the Becker Group. The group worked closely with Peanuts creator Charles Shultz to carry out the Peanuts theme in a variety of forms. Snoop's North Pole Palace alone took 40 man-hours to construct.

The palace features 10 pieces of animation set among four towers, 22 giant peppermint sticks (belonging to Peppermint Patty) and more then 100 plush Snoop dogs, cascading dolls and brightly wrapped packages.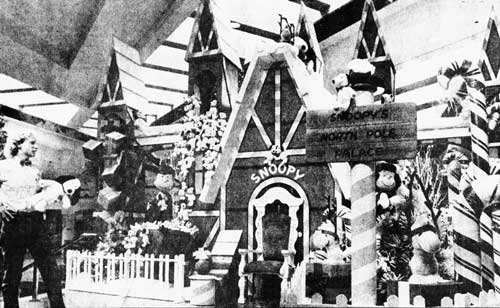 From drawing board to the carefully synchronized finished scene, the display reflects Schulz' concept of the Peanuts' characters since Everhart consulted with him throughout the various stages of the project.
"The idea is Snoop and Woodstock are preparing the holiday season for kids," Everhart said as he watched workers putting the finishing touches on the scene.
"Over the years Snoop and Woodstock have come to be associated with the Christmas season, and we see this as a nice way of getting kids involved. Sparky (Schulz) is very concerned with children, and pleased when we can do something like this."
Everhart sculpted the figures using molded rubber latex at a Chicago studio. The doghouse was built in Philadelphia while the trees and the surrounding features were built in New Jersey. The parts were shipped to Battle Creek in modular units for construction.
Snoop will have his traditional spot atop the doghouse accompanied by Woodstock. Oliver and Harriet disguised as reindeer with branches. While Lucy is fielding dolls falling out of the overstuffed doll tower. Schroeder will be serenading her on his piano, Linus will be busy with scissors as he gift-wraps packages and Charlie Brown will be nearby with his best holiday smile.
The three-foot-tall characters are powered with internal, electric motors, Everhart said. "They're designed to look just like animation."
The expressions, movement and personalities depicted in the display must match identically with the characters familiarized in the television specials and comic strip, he added. Schulz closely monitors the operation. "I design it and draw it, then take it to Sparky to work it out with him," Everhart explained. "He has to approve it."
The final reward comes "when the children, come in and see it. When they start screaming 'Snoopy, Snoopy,' and you see their faces, it's great."