Artist brings Peanuts-inspired works to Denver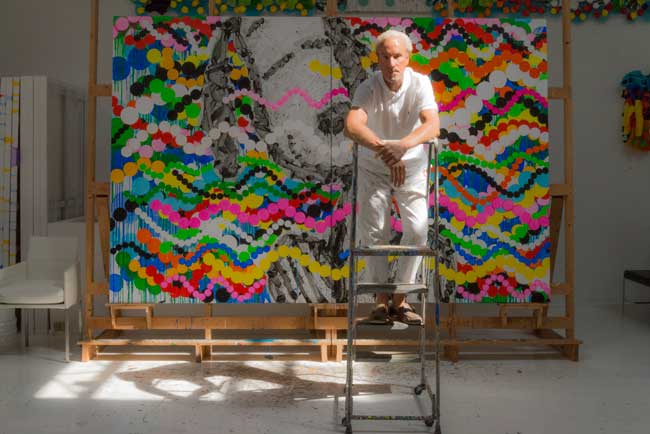 by Joe Vaccarell
Charlie Brown, Snoopy and the rest of the Peanuts gang are on their way to Denver, but not in the way most people have seen them.
Artist Tom Everhart's work is unique because he is the only artist given permission by Peanuts creator Charles Schulz to use the characters in his work. Everhart has taken that permission and created hundreds of pop-art paintings using all the Peanuts characters.
"Even if you're not a Peanuts fan, but a fan of art, you (can) appreciate Tom Everhart's work," said Aaron LaPedis, co-owner of Fascination St.
This show is not part of a tour and will appear only in Denver. All art will be for sale with prices ranging from $850 for limited edition pieces up to $140,000. The show is currently running and will be up through next month at the gallery. He will tell stories about Schulz, such as when he lived in Colorado Springs in 1951. He was miserable there, but spent a lot of time at coffee shops reading abstract art magazines, helping to shape the way the comic appeared.
Unlike other gallery shows in which an artist's recent works are featured, Everhart will be showing work that spans from 2000 until now.
"What I asked them to do was represent all the various things I learned and applied from Mr. Schulz. It really does looks at fundamental relationships between cartoon and painting, cartoonist and painter," Everhart said.
Everhart, who worked with Schulz from 1980 until Schulz's death in 2000, infuses his inspiration into the Peanuts characters. He said the character's personalities are not always reflected in the art and that his views and feelings show through. Everhart became so good at drawing the Peanuts characters, he often produced commercial work on behalf of Schulz, who focused primarily on the comic strip.
Everhart said he was hesitant to embark on this journey, but it was Schulz who pushed him to do so and to put his own stamp on the work. Overcoming a bout with colon and liver cancer in the late 1980s inspired him to get started.
"It possessed me so much that I think it made me overcome the illness I wasn't supposed to overcome," he said.
LaPedis said some have compared Everhart to Andy Warhol and called Everhart's visit to Denver a once-in-a-lifetime opportunity. He added that many art lovers will be flying in for the show.
"We're seeing an artist here in the prime of his ability, and there's not many people coming up through the ranks that are the Tom Everharts of the world," LaPedis said.