Tom Everhart's 'Peanuts' Art: Artist Puts Spin On Charles Schulz's Cartoons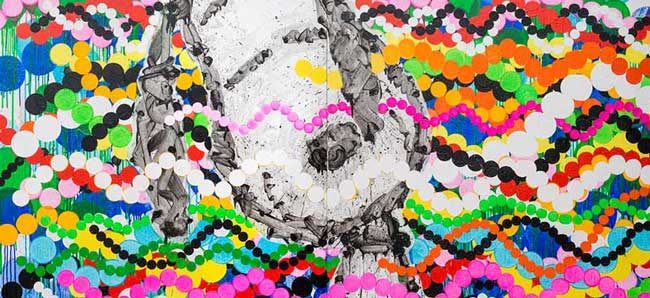 We like Charles Schulz's beloved comic strip, "Peanuts," just as much as the next person, but there's something about artist Tom Everhart's trippy depictions of Snoopy and company that have us scratching our heads. (Scroll down for images.)
Everhart's paintings feature images ripped straight from the Sunday funnies, showcasing the lovable faces of Charlie Brown, Woodstock and Lucy set against hyper-psychedelic backdrops. The wholesome artworks, which look similar to Schulz's handiwork, are then coupled with nonsensical titles like "Hipster Dog Dreams" and "Big Poppa Seemless."
If you're attempting to figure out how Everhart gets away with his "Peanuts" knock-offs, don't worry, he has permission from the late Schulz himself. According to a press release, Everhart was granted "exclusive" rights to reproducing the Charlie Brown gang as fine artworks after having studied and palled around with Schulz before his death. Since then, he's had his chromatic Schulz-related works featured on the walls of the Louvre, the Los Angeles County Museum of Natural History, and the Montreal Museum of Fine Arts. Take that, Metlife Insurance ads.
After looking at Everhart's strange melding of pop culture and pop art, we can't decide whether we should sit back and relax beside his blissfully happy figures or fear the moment those tiny creatures open their eyes to reveal gaping vortexes of evil. Either way, we are sufficiently amused by the Snoopy painting (below), which showcases everyone's favorite black and white canine covered in little Woodstocks, accompanied by the title "Does This Make Me Look Fat."