PEANUTS IN OILS


Charles Schulz may be gone, but Charlie Brown isn't. Venice artist Tom Everhart remains the only one in the world authorized to paint Snoopy and friends.

All artists seek a spark or moment of discovering their artistic purpose. Tom Everhart found his in this panel of a Peanuts Cartoon.

Now that Charles Schulz is dead, Everhart is the only person on the world who is authorized to create original paintings of Snoopy, Charlie Brown and the other Peanuts characters, his work, from depictions of Snoopy stuck in traffic, to Lucy screaming, almost didn't happen.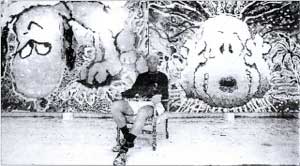 "Schulz told me I was committing suicide, recalls Everhart. Who lives in Venice, "he loved it, but he thought I was nuts. I was scared to death at first as well, but he was supportive."
He's work today is a far cry from the portraits of "very odd-looking statues", that he painted before his fateful meeting with Schulz, which happened 20 years ago when he was supplementing his income as an artist by doing projects for P.R. and architecture firms.
'An instant self-awareness'
At the time, Everhart felt dissatisfied with painting traditional representations of real life, and with completely abstract art. He wanted to found an in-between, and cited Roy Lichtenstein as an artist who had found that middle ground.
He had been assigned to draw Peanuts characters while working on a project for a theme park company that wanted to incorporate the characters into the parks. To get a better idea of Schulz's style, he projected a giant blow-u of a Schulz cartoon into a wall. Suddenly, he discovered his purpose.
"Those lines, they turned into paint strokes', he recalled. "There was an instant self-awareness, like I had learned a language overnight."
Everhart's Peanuts drawing caught the eye of Schulz, who snuck into the back of a pitch meeting for the theme park client wearing a track suit. Schulz was so impressed that he stopped the meeting to take Everhart back to studios. "I can't believe I didn't draw that," he would come to say of Everhart's work.
Everhart drew special projects for Schulz, while the cartoonist focused on the comic strip. A Time magazine cover of Snoopy and the majority of the Metropolitan Life ad campaign featuring the Peanuts gang were not Schulz's work, but Everhart's. As the two men continued a professional relationship, they stayed in contact or visited at least once a month.
It wasn't until Everhart became very ill in 1989 with colon cancer that had spread to his liver (coincidentally, the exact same illness that took Schulz' s life) that he decided to concentrate full-time on painting large scale original work based on the Peanuts cartoons. (Doctors gave Everhart two years to live, be he received a year of aggressive chemotherapy and ultimately beat the disease.
Snoopy goes to Venice
Now, boldly colored, energetic paintings of Snoopy and friends line the walls of almost every room in Everhart's Venice loft – which doubles was both home and studio, though the living quarters are cramped compared to the big open work spaces that accommodates paintings as big as 24 feet wide and almost 9 feet tall.
There is "Nobody Barks in L.A," a canvas featuring Snoopy with an enormous grin surrounded by palm trees. The most recent paintings are black and white, and featuring Wood-stock-like birds whirling and twirling around the canvas from all angles, inspired by the artist's experiences with birds while bicycling along the Venice pathway.
The only paintings that appear to diverge from the Peanuts theme are large still-life of flower bouquets – yet even this is homage to Schulz. Everhart pulls a stack of old cartoons from a folder, revealing the same bouquets on tables in the corner of some Peanut cartoon panels.
Everhart's clothes and shoes are splattered with paint, not a surprise because he says he's often jumps from one canvas to the next. He may work on up to 50 paintings at a time, and the average time to complete on work is a year.
Though Everhart has been painting Peanuts characters and objects (such as Schroeder's piano, his first Peanuts related work) for many years, limited edition Lithographs of his work have only been available for about three years. They are rapidly appreciating in valve.
An average-sized Everhart print, about 24 inches by 30 inches, is generally priced at about $750, and original of that size is usually $4500. The prices of prints can easily rise to $1200 within a few months of the issue date, and the price for originals of that size can quickly rise to $6000.
Larger-than-life size originals, those up to 9 feet by 24 feet, range in price from $15,000 to $75, 000, and are mostly found, in private collections, museums or lining walls of Everhart's studio.
Such rapid and booming success is rare, experts say.
"Two years in the art world is not very long time for exposure", said Sharon Thornton, president of Menlo Park, Calif-based Peabody Fine Art, which sells lithographs of Everhart's work.
Art after death
Like Schulz, who maintained a low profile throughout his life, success doesn't appear to have had a big influence on Everhart. "It hasn't hit me" he said. "I just love seeing people's reactions to the paintings and satisfaction in that".
Art experts say it's hard to determine what impact Schulz's death will have on the valve of Everhart's distinctive work.
"I think there is a recognition factor, which makes an artist identifiable, and that certainly can translate into a higher valve', said August Uribe, director of the fine arts department of West Coast at Sotheby's auction house.
Many factors are at play, however, when an artist dies, and the death of Schulz is complicated by the factor Everhart is still drawing his characters. The valve on an artist's work can even decrease after his death if there is a glut of work in the market, as was the case with Pablo Picasso, Uribe said.
Demand for product emblazoned with images of Peanuts gang is certainly alive and well. A free Peanuts key-chain give away promotion late last year was expected to garner interest from 10,000 to 20,000 people, "we had 170,000 responses', said Diane Iselin, spokeswoman for United Media, which licenses Peanuts merchandise and a "Snoopy by Everhart" line of products.