Scores Prime Time Visibility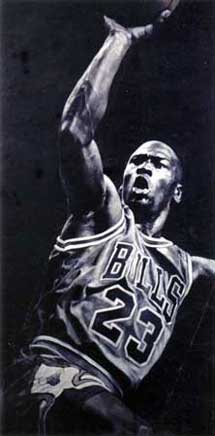 Stephen Holland




by Michael McKenzie


The Greco-Roman ideal, where body, mind and spirit congealed for the advancement of the humankind, gives western Civilization a slid foundation for its sports art heritage. And today's artists, like their laurel-wreathed predecessors, are applying their talents to creating artworks that further immortalize these gods of agility and power, while gaining both fame and fortune for themselves.

During the past there decades the proliferation of "sports art," as many dealers and collectors call the genre, has paralleled the boom of sports in the media

Leroy Neiman, a Chicago Art instituted professor as well as Playboy's key illustrator, captured the attention of galleries, the media, the public and the well-heeled collectors with his athletic portraitures in the 1970's. Even Andy Warhol entered the sports art arena with paintings and edition prints of such superstars as Muhammad Ali, Wayne Gretzky, Pete Rose and Tom Seaver.

By the mid -80s, barley 10 years into his print career, Neiman portraits, with typical editions in the 300-unit range, were fetching $5,000 for a signed print, making the retail value of his single editions, by some reports worth $1,500,000.

Getting in the Act
In the early 90's, everyone was getting into the sports art act, from American Express Card Catalog sales and Sharper Image retail stores to stadium-sized sports art fairs and T.V. hawking on both QVC and HSN. Even the now defunct Woolworth's had framed sports art for sale

Today the marriage of sports and art seems to be ready for prime time. The emergence of artists, coupled with the participation of the athletes' them-selves, is a strong melding of talent and sure0fire public-visibility.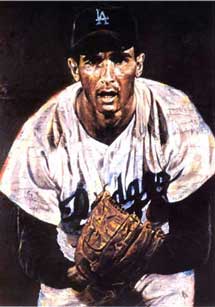 Take artist James Rizzi, for example, who began creating sports-themed art as a result of a show at the Olympic Museum in Lausanne, Switzerland, commissioned by Juan Antonio Samaranch, the president of the Olympic Committee. Since then, Rizzi has done a painting for the opening ceremonies of the Olympics in 1996 and a print for the 1998 Winter Games.
"All of this has been phenomenally successful for Jimmy, myself and the Olympics," said John Szoke, Rizzi's publisher and owner of John Szoke Graphics in SoHo. "It Makes sense that sports art would become bigger and more sophisticated since sports have grown so phenomenally and continue to grow," he added.
New Demands:
Today, as the sports art market becomes larger and more sophisticated, and the collectors become savvier and more art knowledgeable, the demand for new art innovations is growing.
"you have to create and experience; which is so much more than a piece of art," said Ken Thimmell, an executive at the All American Collectibles Inc., A new Jersey-based company that specializes in sports art. "We try to create an experience that becomes a life-long memory–helping people have fun collecting art."
Thimmell entered the sports art market as an extension of his already existing art business. "Animation was getting a little cold," Thimmell said, "and sports art was heating up, so it was a gamble." Once that has paid off.
According to Thimmell There is a new wave of collectors­–doctor's, Lawyers, police officers–mostly men, who are interested in sports art. What Thimmell is trying to create for these collectors are "lifetime memories with an event and a signature that secures the artwork as authentic." (Thimmell said that according to the FBI estimates, 70% of all signatures are fake. He creates the event with the athletes to prove that each signature is real–the collectors are watching it happen.)
As the business grew, Thimmell took it a step further hooking up with Harlan Werner, a real-life Jerry McGuire sports agent whose clients include Ali, Joe Namath, Jim Brown and Sandy Koufax. Their first collaboration was an artwork depicting the Popeye and Brutus characters, licensed by Thimmell, signed by Ali and Sugar Ray Leanard. (The autographs were engineered by Werner.)
After five years, Thimmell and Werner have hooked up with artist Stephen Holland, moving beyond animation art to paintings and prints.
"Having worked with Ali, Sandy and Namath for a decade" said Werner, "you can imagine how many images of athletes I've seen. But when I saw Holland's stuff, I immediately said "This is it, this is what sports art needs to go to the next level."
Thimmell explained, "For me, Stephen Holland defines the next step for sports art, the teaming of the great artist and the great athlete to make a work of art you simply have to have."
Holland's first project with Werner and Thimmell was a 'Broadway Joe" lithograph co-signed by Joe Namath. The image was unveiled in a New Jersey hotel and the event attracted 400 some art buyers, most of whom had collected sports memorabilia and now were collecting sports art.
Werner says he feels he has created a perfect marriage. 'I'm giving certain elite sports fans the opportunity to own a piece of history. My job is simply to locate the right owners-not to sell people on it."
While many dealers see this as "talk," Werner's latest venture with Holland, an edition of 225 silkscreened canvasses of Dodger legend Sandy Koufax, is due for release on May 1st and expected to be sold out long before the All-Star break.
"I'll be shocked of this edition is not sold out by the end of May," said Werner.
With attention from the Olympic Museum and other important museum exhibitions showing sports art, the genre is finding its way to respectability. Still, the joker in the deck is art outsiders like Werner, who has positioned himself to pump adrenaline into the sport art business.
"My job," said Werner "is to identify legends, longtime worth of contribution, before the big institutions do." He recently showed Holland's painting of Koufax to the Dodgers and immediately they wanted to show it at the stadium. "This" Werner smiled "is going to be fun." ABN
"Michael Jordan" by artist Stephen Holland is a 40 by 20-inch serigraph on paper.
"Sandy Koufax" by artist Stephen Holland will be unveiled May 1st.
Joe Namath shows off "Broadway Joe" painted by artist Stephen Holland and signed by both Holland and Namath. Namath's signature on the artwork plus his appearance at the unveiling is the type of publicity that publisher Ken Thimmell (pictured right) says is propelling sports art to the next level.