BRONX NATIVE TO DEBUT BRONX BOMBER ART AT UPCOMING EVENT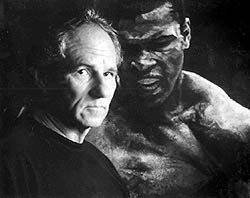 by Jon Minners


What do you get when you put a premier sports artist from the Bronx together with a legendary Bronx Bomber?

The answer lies in New Jersey, on Saturday, when Gun Hill Road native Stephen Holland presents an art exhibition featuring some of his most famous works, including the unveiling of his latest piece – a limited edition oil painting of Yankee great Yogi Berra.

During a VIP reception Yogi Berra and the curator of the Yogi Berra Museum and Learning Center will officially accept Holland 's artwork as a donation to their permanent collection in Montclair .

"It's an honor to paint such an iconic legend as Yogi Berra," said Holland , 66. "I hope my work captures the true essence of one of the greatest baseball players of all time. It was my desire to create a soulful and active piece that reflected the New York landscape as well as the emotional and physical nature of one of the game's greatest competitors."

Holland has met and painted sports greats such as Muhammad Ali, Sandy Koufax, Mickey Mantle, Brett Favre and Kobe Bryant, and has established a reputation as the premier American sports artist by effectively capturing great moments in sports and eliciting emotions from those who view his works.

He is among the top-selling sports artists in the country and was named Sports Artist of the Year by the American Sport Art Museum in 1993. His works, which sell for between $2,000 and $70,000 (depending on the athlete and whether the painting is an original), are instantly recognizable by their drama, grittiness and abstract backgrounds.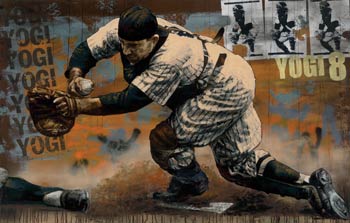 "I paint the background first, using lettering, ripped up magazines, spray paint, crayon and acrylics and then use oil paints for the figure," Holland said.

The artist's passion started during childhood, when Holland was forced to wear a brace to treat a disintegrating hip.
"Playing sports was difficult, but after I got over wanting to be a cowboy, police officer, firefighter and astronaut, all I ever wanted to do with my life was art," said Holland, who attended P.S. 94, P.S. 103 and J.H.S. 80 before attending what is now known as the High School for Art and Design and the Pratt Institute to develop his craft.
Sports became a perfect medium to hone his talents. Unable to afford models, Holland 's love of boxing came in handy when he decided to draw pictures from boxing magazines.
"It gave me a chance to get full picture-in-action," he said. "I really had a great time drawing the figures. Then I purchased football magazines and I enjoyed the balance of uniform colors with the figure."
Holland , who would later move to Santa Barbara , where he would meet his wife, J'Nelle, tried to diversify his collection to include non-sports-related material, but in 1989, he was commissioned as the official artist of the Los Angeles Kings.
There was no going back. Soon, Holland 's art began appearing on the cover of the King's Game Night magazine, while the Kings private offices at the Staples Center started looking like a one-man show of Holland 's artwork.
With help from his agent, Harlan Werner, and his partner, Daniel Crosby, Holland was able to contact a number of professional athletes and found himself growing particularly close to boxing great Muhammad Ali.
Holland 's painting of Ali is one of his most famous pieces. It was commissioned for the 25 th anniversary of the Victor Awards, which honored Ali as "Athlete of the Century," but the painting was soon selected by Ali's wife to represent him for his 50 th birthday party.
"There was a wonderful childlike persona about Ali," Holland said.
Holland says he would like to paint another boxing great in Sugar Ray Robinson. "I am awed by what an incredibly tough guy he was," he said. "I saw a film of him fighting and he had all the class and dignity of Fred Astaire and the toughness of Mike Tyson in his prime."
Whoever his next piece will be, Holland does not plan on retiring any time soon "One of the things I really enjoy about painting athletes is that when you're a kid and you love a basketball star, you pretend to dribble like them and for a brief moment you become that athlete," he said. "I kind of missed out on that as a child, but when I paint and look through the photos of these great athletes, for a brief moment, I get to live through them."