Hockey Art? Your in Luc

By Mila Adnre


In Recognition of the National Hockey League's All-Star Games this Weekend at Madison Squre Garden, the Dyansen Gallery in SoHo is featuring the work of Stephen Holland Recently selected as the Sports Artist of the Year by the U.S. Sports Museum and Archives, in Daphne, Ala.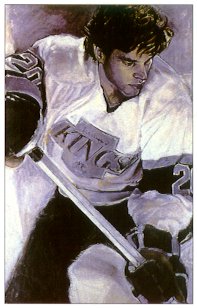 Holland, who is also the official artist of the Los Angeles Kings, and whose work appears on the covers of their programs, "GameNight," catches not only the facial
expressions of the various hockey players, he captures the mood of the game as well.But since original art is much too epensive for the average sport fan, Holland's publisher has produced lithographs that are within almost everyone's price range.
In the gallery will be "Celebration," featuring Wayne Gretzky, Dave Taylor, Luc Robitaille and goalie Kelly Hrudey, after winning a game, "All-Time Scorers," commemorating two of hockey's record holders, Gretzky and Paul Coffey, as well as many other works, both originals and signed lithographs.
So if you can't make it to Madison Square Garden, visit the Stephen Holland exhibit (on skates if the weather continues to be as freezing as it has been lately), and you'll get a real felling of sportsmanship on ice