Painter's palette brings athletes into focus

By Leah Etling,

Name a superstar athlete of the past century -- Muhammad Ali to Tiger Woods, Wayne Gretzky to Joe Namath, Michael Jordan to Kobe Bryant -- and there's a good chance that celebrity sports painter Stephen Holland has created their likeness on canvas.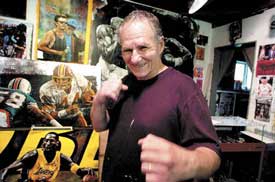 A well-kept Santa Barbara secret, Holland works in a paint-splattered studio in his garage in a quiet neighborhood off Modoc Road. Meanwhile, his work travels the country. One of his representative agencies, Art of the Stars, is a road show that goes everywhere from the Major League Baseball all-star game (which happened earlier this month) to the National Sports Collectors Convention in Anaheim (which is going on this weekend).
Holland's work is big (canvases are usually at least 4 feet by 6 feet), action-packed, textured and colorful. In just a few of the pieces that hang in his home, Tiger Woods goes for the putt, Muhammad Ali is calm before unleashing a punch, and David Beckham passes a soccer ball.
He also paints music and movie stars -- John Lennon, Steve McQueen, Humphrey Bogart, Frank Sinatra -- using the same dark, abstract backgrounds and realistic figure style that make his athletes look focused and intent.
"Athletes wanted to work with him (from the beginning) because he was painting them the way they wanted themselves to be seen," said Danny Stern, Holland's represenative.

Holland is a self-described late bloomer who has been most successful as an artist in the past 17 years. He started his commercial career focusing on sports with the help of his wife, J'Nelle, to whom he gives most of the credit for his success.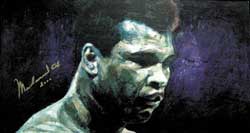 He also credits his daughter, Breena, for showing him how to focus and his brother, John, for giving him advice and insight into the world of sports.
Holland wasn't a frustrated child athlete or rabid sports fan who turned to painting sports as an outlet. In fact, he wasn't into athletics at all as a kid. A degenerative hip condition put his leg in a brace and prohibited him from playing with friends. His brother was a talented athlete and attentive sports fan, and his knowledge of famous players has been a resource for Holland's work.
As a young man, Holland attended New York City's Art Students League, the School of Visual Arts and the Pratt Institute, where the focus was on abstract expressionism. It was a stark contrast to Holland's realistic style.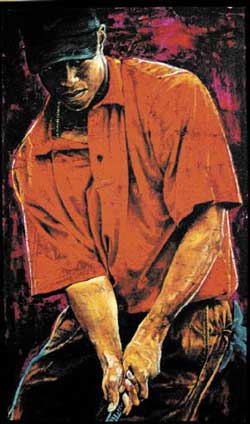 The timing of Holland's decision to focus on sports celebrities, in the late 1980s, couldn't have been better. The past two decades have been a boom time for commercialized, collectible art, and his customers prefer recognizable figures from the ballpark or TV screen to an abstract or interpretive painting.
"There are a lot of people who are interested in these who mite not have ever expected to find them in an art gallery," Stern said.

Some galleries who carry his work say they always keep one Holland print in the window to attract the many fans into their gallery.
Holland's primary representative, the Sports Placement Services Limelight Agency, handles athletes whose careers are done but still have highly recognizable names -- people such as Ali, Joe Namath and Sandy Koufax. The agency handles publishing and distribution of Holland's work, which can include 10 to 12 limited editions a year. High-quality giclee prints of the originals. These pieces range from $1,900 to $7,500. Holland originals are in the $11,000 to $30,000 range. His collectors are passionate, taking home in some cases anywhere from 15 to 50 of his pieces.
For the average sports fan, Holland's work might be viewed in passing at the Staples Center, where it is on display, or anywhere that Art of the Stars travels, including all the major playoffs.
In the beginning of their sports venture, the Hollands went to numerous hockey games to photograph athletes from the Los Angeles Kings. For many years, Stephen Holland was the team's official artist. He met Wayne Gretzky, Luc Robitaille and many others.
But the athlete who made the biggest impression on him was none other than "the Greatest," Muhammad Ali.
"It's like meeting a saint. He emanates such joy and peace," Holland said. "It's impossible to feel sorry for him, even though he doesn't have motor control."

By listening carefully and closely, the couple has had wonderful conversations with the boxer, they said. After Stephen suffered a heart attack in 2001, Ali even called him on the phone to wish him well.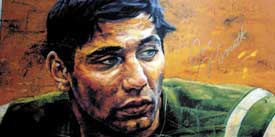 Considered Ali's "official artist," Holland was selected by Ali's wife to paint her husband for his 50th birthday party. His Ali works are typically some of the highest-selling pieces in his collection.
He has a waiting list of four to eight months for commissions, and he produces anywhere from 30 to 40 paintings a year.
He usually works eight to 10 hours a day, intermittently. On average, it takes seven to 10 days to finish a painting.
The process begins with the selection of photographs of the athlete or celebrity to be painted Once he has the composition he wants, the work moves to the canvas. The paintings are mixed media, usually with acrylics and spray paint, but they can also include pencil, crayon and even dirt, Holland says.
Holland's influences include sculptor Henry Moore and Arshele Gorky, considered the father of abstract expressionism. "I'm interested in painting figures, primarily. As the artist, it's not so much about the rendering but about the form, shapes and colors," he said. "That's what makes it rich and delicious for me."
His work has been honored by the American Sport Art Museum & Archives, which named him sports artist of the year in 1993. He was also one of 12 artists selected by the U.S. Olympic Committee to create imagery representing the 100th anniversary of the Olympics.
At 65, Holland says he has no intention of slowing down his pace of work. "I did my retirement first," he said of his life course.
He and J'Nelle travel frequently to shows and galleries where his work is being shown.
The real game of his art, though, takes place in the studio, where achieving the perfect composition of a piece would be considered a win.
One of Holland's biggest compliments came from Harlan Werner, SPS' (Limelight's sister agency) founder, when his agency began representing the artist.
"He said I was his new Muhammad Ali."