Artist Stephen Holland brings a dynamic energy and soulfulness to his work
T.S. O'Connell
The worlds of fine art in general and sports art in particular have come a long way the past several decades, with computers adding a level of sophistication to the printing process that would have previously been impossible, but in the end it all still comes down to the artist.
Stephen Holland, a 62-year-old painter of powerful sports scenes and figures, creates stunning original artwork of some of the most famous names in sports, and uses all that computer technology to good advantage along the way.
Holland's current publisher offers a range of limited-edition giclees and serigraphs, with many of the prints signed by the athletes portrayed, as well as by the artist.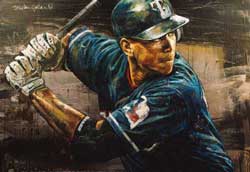 The lineup is imposing: Troy Aikman, Muhammad Ali, Larry Bird, Kobe Bryant, Joe DiMaggio, John Elway, Wayne Gretzky, Randy Johnson, Dan Marino, Joe Montana, Shaquille O'Neal, Mike Piazza, Cal Ripken, Patrick Roy, Babe Ruth, Curt Schilling, Sammy Sosa, Lawrence Taylor and Tiger Woods. That by no means exhausts the curriculum, but it sufficiently illustrates the calibre of the clientele being immortalized by his brush.
The various prints and giclees can range in price from $1,500 to $2,500, most in edition sizes of about 200 pieces, and a good number of those coming with the individual player's autograph as well.
A winner of the Sports Artist of the Year title in 1994, he also was honored by being named one of a dozen artists selected by the United States Olympic Committee to commemorate the 100th anniversary of the Games.
All of which is pretty heady stuff for a man who channeled his love of sports through his artwork when a disability prevented him from playing them as a young man.
His career in sports art began unofficially nearly 15 years ago with a series of paintings that he did for the Los Angeles Kings. That organization would eventually designate Holland as the team's official artist, and he would later gain additional fame under the auspices of a well-known hobby figure, Harlan Werner of Sports Placement Services.
Holland's work displays a genuine "masculine energy and ruggedness," in his words, and the athletes are situated in an environment of dramatic brush strokes and qualified mayhem that Holland refers to as "graffiti-type background."
"That's what I paint because that's what I like about sports, that soulfulness" said Holland. Those seemingly brooding backgrounds weren't part of any grand plan but simply seemed to materialize in his work." All of a sudden, I realized that was what I was doing.
"There's a lot of drama in sports for a visual artist," Holland added, and his powerful brush strokes go a long way in conveying that sense of drama. Holland's energetic talent mixes well with the wondrous technology of giclee ( a digitally enhanced process that prints on actual canvas) or the individual serigraphs, and additional highlights to both, added either by Holland himself or a group of artists under his supervision.
Football is his favorite sport, but it takes a backseat when choosing artistic subjects. "I like basketball and boxing because I like the human figure," said the artist.

Which may be the reason there are no prints available of William "Refrigerator" Perry.