by Sara Gilbert
Something went right fourteen years ago when Stephen Holland stepped onto his friend's driveway in California. Maybe the stars aligned. Maybe the gods smiled. Maybe it was the forces of fate coming together at one single juncture in the universe. Whatever it was, it changed Holland's life.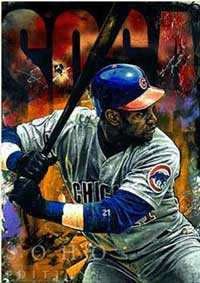 As he stood there, about to meet with the man who would offer him a job at a major toy company, a house in the hills, a car, and a personal assistant, he met his future wife."When I got together with her," Holland remembers, "I thought, 'This is one classy lady'. I knew I was going to do all the 'I'm gonnas' I had been talking about. And that was it. I switched on a dime. That's the point at which everything just coalesced" The Holland who materialized that day in 1987 is the one many art buyers now know for his gritty portraits of athletes, including Muhammad Ali, Michael Jordan,Mark McGuire, and Sammy Sosa. He's the painter who has been named Sports Artist of the year by the American Sport Art Museum and Archives, who has been an Official Artist for the U.S. Olympic Team, and who is the official Artist of the Los Angeles Kings. He's the one who recently signed with Soho Editions, a New York-based publisher of fine art.
Yet nowadays, as Holland sits with his wife, J'Nelle, in their beautiful home in Santa Barbara, California, he thinks about the golden opportunities he missed in his younger years-and about the remarkable way everything finally came together for him.
Stephen Holland knew early on that he had a gift. Even as a kid growing up in the Bronx he knew he wanted to be an artist. "I always knew," he says. "Sure, I wanted to be a cowboy and a football payer, but I knew that I would be an artist.
Holland studied at the Art Students League and the School of Visual Arts before deciding to formalize his art education at the Pratt Institute in New York City. When he left Pratt after three years, with no degree and no idea what to do with himself, he admits that he was a lost soul.
"I was pretty clueless," he says. "I was just so emotionally immature about the realities of life, and I was extremely insecure. On one hand, I had this big ego about my art. And on the other hand, I just didn't believe it.
That internal struggle would define the next several years of Holland's life. He left New York for California and found himself immersed in the Haight-Ashbury culture of the 1960's. He messed around with art and other things, never fully committing himself or his talent to one venture or another. By the time the seventies rolled around, he had met a woman, gotten married, and started making toys. But he still hadn't learned the value of hard work.
"When I eventually grew up, I realized that the people I admired who were successful were grownups who worked hard," he says. "I didn't know I needed to work hard."
He did know that he needed to fan the artistic flame that was burning inside of him. So when he split with his first wife, Holland began to paint again. In his search for subjects, he turned to boxing magazines; the raw power of the figures he found there sparked something. Then he turned his attention to other sports magazines, again in pursuit of powerful physiques.
"I had never been a big sports fan, but I did like football," he says. "For me, it was all about the shapes and the forms. I loved the juxtaposition of the bright uniforms against the organic figures."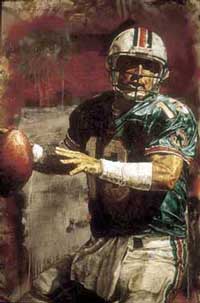 It was when Holland started reading the articles in those magazines that he realized how much work it took to succeed. He found that the athletes who so inspired his artistic muse were dedicated to their careers in a way that he had never been.
"I thought, 'My God, if this is how hard an athlete has to work, imagine how hard an artist has to work.' I started to discipline myself. Basically, I had to start all over.
This time, Holland did spot drawings for magazines and newspapers and painted as much as he could. He moved back to upstate New York and was starting to get his career
underway when he decided to visit his daughter in California. And while he was there, he stopped to see an old friend who offered him a job as an art director at his toy company. Holland was an older, wiser version of his former self when he accepted the job and met his future wife.
Yet he still winces when he thinks about the chances he squandered as a young, starving artist-once wasting an advance he was given to paint for a New York gallery, once failing to follow through on an offer from a film producer who wanted to hire him as an artist for the movie Ghostbusters.
"I had golden opportunities throughout my life, but I guess I was too insecure to take them, " he says. "Maybe this just came at the right time."
For the first time in his life things started coming together for Holland. He enjoyed his job and attacked it with a new energy. He fell in love with the right woman and got married. And with his wife's support and his improved self-confidence, he decided to pursue fine art as a career. Two years after taking the job in California, he set out on his own, intending to paint nudes and other figures.
But then a gallery saw his sports images and wanted more. The Los Angeles Kings commissioned him to do a painting. Then came the phone call from Daniel Crosby, Muhammad Ali's agent. "He called and said he wanted to talk to me, that he thought my work was the best he'd seen, that he wanted to be my agent," Holland remembers.
Crosby and his partners had formed Sports Placement Services (SPS) to manage several retired athletes-among them Ali, Joe Namath, Sandy Koufax, and Jim Brown-and they found themselves besieged by artists who wanted to paint their clients.
"We responded the most to Stephen, Crosby says. "I'm not a sports fan. The joke around here is that when someone mentioned Sandy Koufax, I said, "Who is she? But I'm drawn to Stephen's work. There's just a gritty dynamic essence to his work that transcends the sport, the athlete. It doesn't matter who the person is."
What matters to Holland is simply that it's a person. "Professionally, my interest is in people," he says. "I like to paint people. And sports is a good avenue to find people. Plus, it gives me drama that isn't staged. I'm so inspired by athletes and the dedication they have, the way they strive for excellence. I have been since I started this."
And he has certainly painted an inspirational bunch, most of whom he has also been able to meet. But it wasn't the athletes who have made Holland so successful. It's the dedication he now feels for his career.
One of the best compliments he's received, he says, came from a hockey player he had worked with on a project. "He said, 'I can really see the similarity between sports and art.'" Holland remembers. "And I said, "What do you mean?' He said, The passion.'".
Stephen Holland's MVPs (left to right from opposite page): "Ali", "Sosa", "Kobe Bryant", and "Dan Marino".