Tough Guys
The Sports Art of Stephen Holland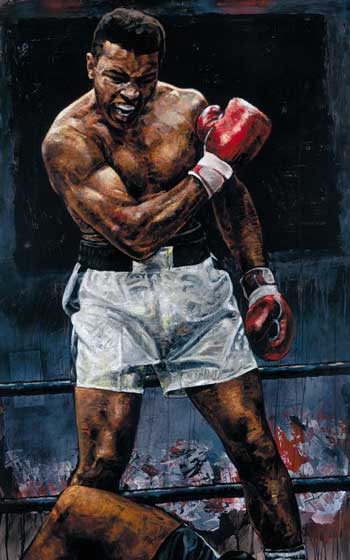 By David Willson

What is more Inspiring than sports? Just about everyone has had the opportunity at some time to push themselves to a new physical level and feel the satisfaction of accomplishment in a sport. As spectators, we experience deep attachments and exhilaration. Each contest offers us an opportunity to cheer strength and determination, to find a new hero, and even to feel admiration for the losers.

There is no denying the hard work, pain, fortitude and emotion that athletes invest in reaching professional, and then star status. We often forgive them for showboating and misbehaving, and we raise the best of them to the level of cultural icons.

Perhaps this is why the estimated #213 Billion sports business industry is one of the largest and fastest-growing industries in the United States. It is far more than twice the size of the U.S. auto industry and seven times the size of the movie industry.

As such, its tendrils reach into virtually every aspect of our culture – including the art world.

The best-selling sports artist in the world today is Stephen Holland. Much like the sports heroes he portrays, Holland reached this pinnacle through a combination of talent, constant practice, determination and discipline.

But above all else, Holland just loves doing it. "It's like when you were a little kid and you'd go to a movie – like a Western, a detective story or a Karate film ­– and you come out of the movie, walking down the block with your friends, and you're dueling or karate-chopping like the guys in the movie. That's a very full-body type of experience," says Holland. "As a kid, you'd play air basketball and pretend you're Michael Jordan. And that's kind of what I fell like when I start looking at photos of athletes, trying to pick something out."

Holland grew up in the Bronx, always wanting to be an illustrator. He attended art school at Pratt Institute in New York City. As a young artist, he wanted to work from the figure but couldn't afford to hire models, so he started looking in magazines for action figures. "It started out with boxing magazines. There was a particular style that I was drawing in at that time. And I was having a lot of fun with it," says Holland.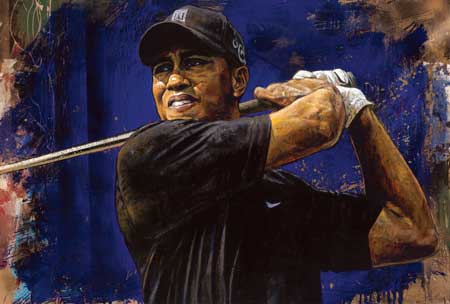 "When I started out, I wasn't necessarily a sports fan. I came at this from an artist's point of view. I had always wanted to be an illustrator. I liked football and I liked a little boxing, but that was it as far as sports was concerned. What the boxing magazines gave me was a chance to draw the figure in action. I got some football magazines and started to draw the football players. Once I started that, I really liked the contrast of the earthy colors of their bodies with the bright colors of the uniforms and the shapes and forms that they made on an abstract level."
Early in Holland's career, however, he was noncommittal and capricious about his work. He moved to California and got involved in the 1960's Haight-Ashbury scene, then drifted through the 1970s. It took renewed interest in sports figures to eventually get him on track. "I had at that point, never really focused very hard on putting a career together or doing what it took to be successful," he says. "I had all these sports magazines around and I stared reading about the athletes and what it took for them to be successful. I was incredibly inspired by that and set out to put a lot more discipline in my life, and to get the ball rolling.
"Stephens big difference is that he is well respected and sought after by the athletes themselves. His paintings represent the way they see themselves. He reflects the passion they have in their sport rather than their celebrity ­– the way they are typically portrayed in marketing images. When somebody like Cal Ripken specifically requests Stephen's touch, the licensors step out of the way. " I started doing some sports artwork locally around town. But I was about to stop focusing on the sports so that I could get a bigger career as an illustrator when, by coincidence, I wound up getting a commission from the LA Kings to do a series of paintings for their offices. At the same time I found a gallery that dealt with sports and entertainment art. It just kind of took off from there. That would have been around 1989."
Holland and his wife started working on the idea of self-publishing art editions. When they began thinking about what their first edition should be, Holland said, "why not start at the top. Let's do Muhammad Ali."
"We looked up his agent, spoke to him, and made a deal to publish a Muhammad Ali print. Three or four years later, that same agent came walking into my studio and asked if he could represent me. He was big into memorabilia and licensing athletes."
This was a major coup for Holland. Muhammad Ali's agent was Sports Placement Services. They were forming a new division called SPS Art (Which later became the Limelight Agency) to represent celebrity art and artists. Holland was one of the their fist clients.
The sports art genre, sometimes called "Guy Art," really took off in the mid-1990s. The market grew about 20 percent per year. At the time, fine art galleries would often display a piece of Guy Art in their window to attract non-art customers and boost sales.
As with all booms, quite a few new artists entered the field, but typically focused on one city or franchise for their subject matter. The quality of Holland's work set him apart, and his sports agency connections through SPS provided him with a national venue.
As a plethora of niche retailers became involved, blurring the lines between art, collectibles and memorabilia, the booming industry began to shake out. When eBay went online, forgeries increased, further diversifying the products and creating easy access for minor art and memorabilia entrepreneurs.
Once again Holland's agency relationship proved to be a decided advantage. "Producing an edition about a sports celebrity can be a very complicated and costly process unless you have the right connection due to the licensing environment around franchise sports," says Danny Stern of the Limelight Agency. "An edition might require as many as four license agreements. Also, the typical sports license agreement is geared towards merchandise and requires upfront payment – which doesn't translate well to the art business.
"I like painting tough guys, which most athletes are," says Holland.
Holland is always looking for new subjects. He has access to thousands of reference photos through stock photo contracts. " One of my favorite things is going through the photos and finding the right photo and cropping it. Then I put it into Photoshop and play around with it until I get it just like I want. But the whole thing really kind of grabs me. It's a real sensual kind of thing."
Holland's paintings are distinctive because they dynamically portray the shifting of weight and the tightening and releasing of opposing muscles as the figure moves through extreme athletic action. Even though his paintings employ abstract expressionistic techniques and sophisticated treatments, his subjects, the athletes, thoroughly "inhabit" the paintings ­– with all of their passion and strength.
"It's like dancing," says Holland. "When you dance, you try and feel the music. And then afterwards someone can tell you what steps to make. But the first thing is you really have to feel it – for me, anyway."
"Stephen has developed special relationships with the sports figures he paints," says Dewey Graff of Dewey Graff Fine Arts, Who has sold Holland's work for 5 years. "They are always enthusiastic about co-signing his editions.
Graff also feels that Holland's relationship with Limelight and the company's support have given him the confidence to explore other subjects. "He has expanded his sports subjects to include celebrities like Evel Knievel, and released prints on Sinatra and Steve McQueen."Graff also feels that Holland's relationship with Limelight and the company's support have given him the confidence to explore other subjects. "He has expanded his sports subjects to include celebrities like Evel Knievel, and released prints on Sinatra and Steve McQueen."
As much as the athletes love the way Holland portrays them, the collectors are even more eager for each new edition. Some collectors have purchased every single print he's issued.
According to Stern, Holland's overall sales are increasing by 30 percent per year, fare outstripping the rest of the sports art world. His recent print edition based on a painting of Tiger Woods – who has been unapproachable to every other artist – came to market at $5,000 a print and was 90 percent sold out in 4 days.
Collectors covet his work not only because it is highly collectible but also because he offers them a larger-than-life experience. He can put them in the batter's box as Sandy Koufax stares them down. And he can give them the timeless experience of seeing Jultin' Joe Dimaggio in mid swing. Stephen Holland paints tough guys.