Stephen Holland Paints Jackie Robinson


Last November the Dodgers announced to the world that Stephen Holland would be their official artist, during their celebration of 50 years in Los Angeles. The vision would be a season full of paintings to be featured in the park, spotlighting the Dodgers magnificent history.

As exciting as this honor is for both Holland and Limelight, it can never measure up to another announcement from the Dodgers some 60 years ago. When they shook the nation by bringing to the major leagues the first black player ever. It was a courageous and unparalleled act for both the team and that player... Jackie Robinson.

Add up all the Dodgers pennants, world series rings, records, all-star players, historic moments and you will still fall far short from the impact that one decision made on not only baseball, but our society as a whole.

Before Martin Luther King, before Rosa Parks, before the Freedom Riders, one lone black man walked across Ebbets Field towards his position at first base through a gauntlet of threats and prejudice with his head held high, backed by a team emboldened by it's own sense of what was right. It was in that moment that both Jackie Robinson and the Dodgers ball club made history and changed much more then just the world of baseball.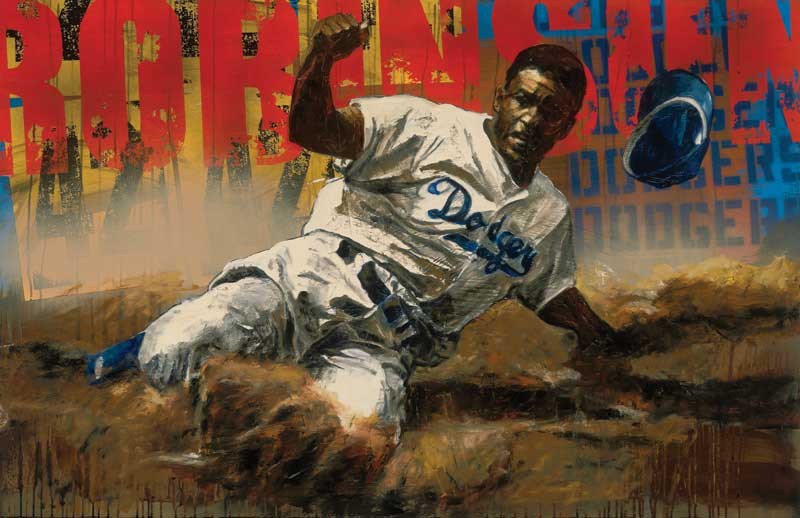 "A life is not important except in the impact it has on others lives." - Jackie Robinson
It was clear to Holland that if he was to paint a series of paintings covering the highlights of the Dodgers it would have to begin here, with Jackie Robinson, the story that defines their heart.
Danny Stern
(Lord of Flatbush)
Limelight Agency