Page; one, two, three

Everhart's Evolution
Charles Schulz helped the budding artist blossom.
By Maxwell Shapiro
Tom Everhart was born on May 21, 1952 in Washington, D.C. His love for the arts began at a young age and led him to enroll in Yale University Art and Architecture Program. After graduating in 1976, Everhart found himself yearning for more. He continued to pursue his passion through a post-graduate program at the prestigious Musee de l'Orangerie in Paris.
Everhart was introduced to Charles Schulz in 1980; the two quickly became close. Armed without much knowledge of cartooning, Everhart frequently blew up the cartoonist's popular strips on a 25-foot wall in his studio. In this medium, Schulz's pen-stroke spoke to him in a way the traditional comic strip could not.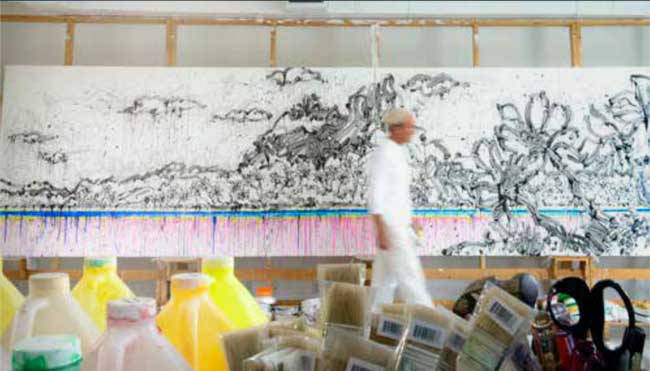 Everhart's adoration of Schulz's finely crafted, line-art work impressed him. With Snoopy as their mutual inspiration, the two became inseparable. Everhart reminisces: "We'd sit there and draw nothing but lines for hours. Thin lines. Fat lines. Wiggly lines. Squiggly lines."
Schulz encouraged Everhart to explore the comic strip in his own work, but the artist was scared the world wouldn't accept his radical Peanuts renditions. Then, in 1988 Everhart was diagnosed with and treated for stage 4 colon and liver cancer. As he lay in his hospital bed, surrounded by stacks of Schulz's comic strips, light began to shine through the window, gently reflecting Peanuts images onto the wall. Whether it was the light or Everhart's medicated state, he claims to have seen images of his future Schulz-inspired paints projected on the wall of his hospital room.
Soon after his recovery, the artist made his visions a reality. "I realized, what does it matter if the art world accepts what I'm doing? This is for me," says Everhart. His early Peanuts art focused on the iconic objects of the comic strip: Schroeder's piano, Woodstock's nest, Lucy's hairdo. He then transitioned to using characters, with Snoopy and Charlie Brown making the most appearances on his canvas.
By taking Schulz's advice and making the art his own, Everhart has experienced new heights in his career. His Peanuts collection has gained respect and notoriety from fellow artists around the globe. Exhibits have been displayed in New York City, at the Louvre Museum in Paris and in the many galleries of Tokyo.
Minneapolis art dealer Dewey Graff describes Everhart's work as "feel-good art." Regarding the iconic Peanuts Collection, he explains, "Tom's playful rendition represent every person's own real-life feelings and experiences. Everhart's work always draws you in and somehow manages to make you smile!"