Page; one, two, three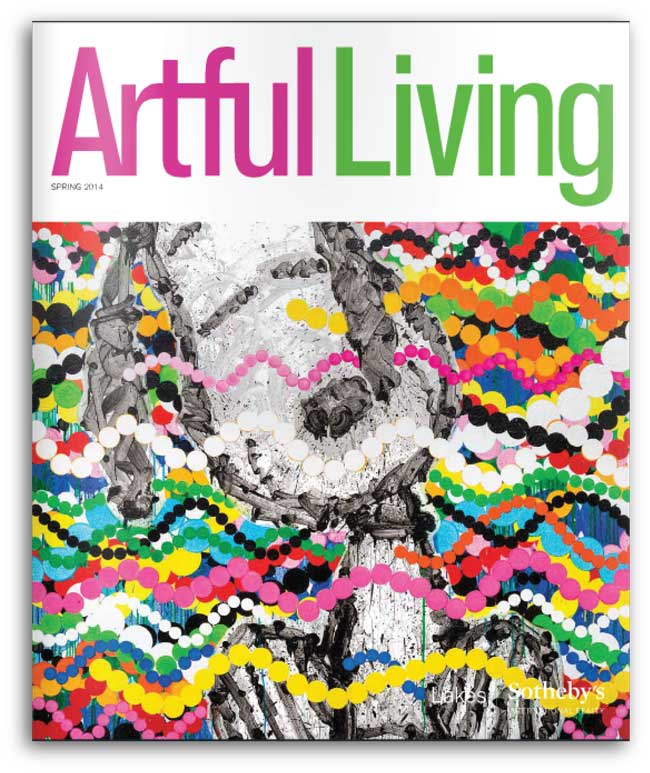 Master Class
One artist is out to prove that cartoonist extraordinaire Charles Schulz earned his place among such greats as van Gogh and Picasso.
By Alyssa Ford
In his lifetime, Charles M. Schulz rarely turned down interview requests. He found them "relaxing" and a welcome distraction from his day job, drawing the world's most popular cartoon strip, Peanuts.
Read through some of those interviews, though, and a curious trend emerges: Schulz is quick to put himself down, downplaying his artistic nature. When Barnaby Conrad of the New York Times Magazine asked him about cartooning in 1967, Schulz said, "Cartooning is a fairly sort of proposition. You have to be fairly intelligent — if you were really intelligent, you'd be doing something else. You have to draw fairly well — if you drew really well, you'd be a painter. You have to write fairly well ­— if you wrote really well, you'd be writing books. It's great for a fairly person like me."
He frequently mentioned to reporters that his parents had third-grade educations and that he himself never finished college. When Newsday's reporter Stan Isaacs asked if he saw cartooning as a art, Schulz responded, "Comic Strips aren't art; they never will be art. They are too transient. Art is something so good it speaks to succeeding generations. … Comic strips are not made to last; they are made to be funny today in the paper and thrown away."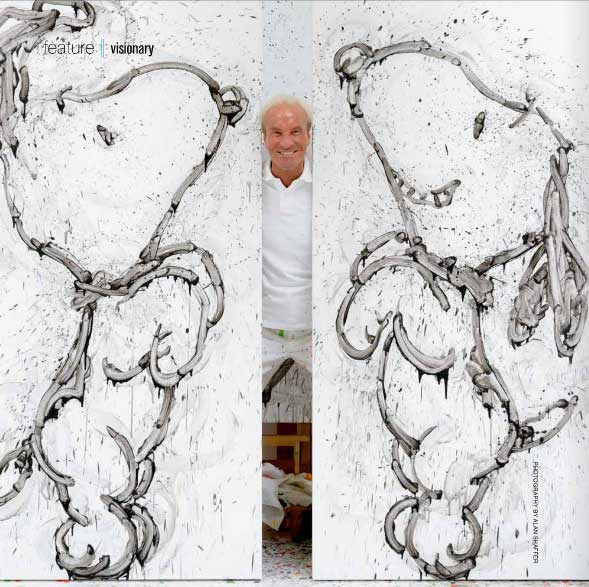 Artist odd couple: Despite coming from radically different backgrounds, Charles Schulz and Tom Everhart became friends in 1980 and stayed close until Schulz's death in 2000. Today, Everhart makes large-scale paintings inspired by his late friend's famous cartoon strip. Peanuts. Often the subtext of Everhart's work says something very direct about the art of Schulz, including the seven-foot-tall paintings shown here, "Performance Art 1" (left) and "Performance Art 2" (right), both unfinished. In this series, Snoopy rises up on his kind legs, recalling the watershed moment in 1960 when "Snoopy becomes a true abstract character," says Everhart.
The put downs became such a signature part of Schulz interviews that one reporter, B. Eugene Griessman of the Atlanta Journal Constitution, called him out on it: "You say you are not very sophisticated at all. Why do you say that? Is it because you're modest or because it's true?" To which Schulz replied, "I really think it's true. In the first place, I don't really think I'm especially smart. … I don't regret not being highly sophisticated, but who even knows what it is? I don't even think about it.
Schulz called himself "just a cartoonist." But according to his longtime friend and protégé, it was all image-crafting. "He wasn't trying to be disingenuous," says artist Tom Everhart, who became very close to Schulz during the last 20 years of the cartoonist's life. "But he was very concerned that people wouldn't understand him."
Everhart says Schulz was exceptionally sensitive: that to him, every perceived slight cut bone-deep. "My friend was very insecure," he tells Artful Living. "Telling people, 'what I do isn't art' and saying things like, 'I'm not very sophisticated,' was his way of protecting himself." Everhart says that, contrary to what he told reporters, Schulz very much saw Peanuts as art and himself as an artist. "Part of my job was to talk about his art," he notes. "He would send me to explain his at to various groups of people, to say what he couldn't."
Fourteen years after his friend's death, Everhart is still on the crusade to prove that not only did Schulz know exactly what he was doing but that he was an abstract master, on paper with the greats: van Gogh, Rothko, Pollock, even Picasso. He has made it his mission to dispel Schulz's own carefully crafted image as the Midwestern simpleton who drew funny-looking kids. Everhart has given more than 75 public lectures, and his own paintings revolve around this central thesis: Charles Schulz was an artist, and he knew it. Here, Artful Living examines Everhart's case.
Next page> Read on to page 2, Everhart's Case