Stephen Holland the Artist of the Los Angeles Dodgers


During the Dodgers' 50th Anniversary season in 2008, scholars and baseball fans can spend endless hours debating one another when attempting to rank an exact order of great moments or assembling an all-time Dodger team. But looking at the portfolio of artist Stephen Holland, there's little doubt his many Dodger subjects are forever preserved "in the moment," whether it's Hall of Famer Jackie Robinson sliding into home or the unique pitching styles of Don Drysdale and Sandy Koufax.
Former Dodger outfielder "Sweet" Lou Johnson isn't an art collector, but a recent Holland print of Robinson touched a nerve and nearly brought him Former Dodger outfielder "Sweet" Lou Johnson isn't an art collector, but a recent Holland print of Robinson touched a nerve and nearly brought him to tears. Johnson first glanced at the painting of Robinson during an exhibition at the Gallery 319 studio in Santa Monica, where other sports-related paintings by Holland were displayed.
Johnson grew up in Kentucky and he admired the challenges overcome by Robinson, the first African-American to play in the Major Leagues in the 20th century with the Dodgers in 1947. Johnson wasn't allowed to play basketball in the early 1950's at the University of Kentucky because of segregation. By 1965, Johnson received an official red-carpet welcome at the Lexington airport after his home run in Game 7 of the World Series at Minnesota sparked the Dodgers to a championship.
During the summer of 2008, three copies of the Robinson painting arrived at Dodger Stadium as gifts from Holland to Johnson, two-time National League batting champion Tommy Davis, and Don Newcombe, the only man in baseball history to win the Rookie of the Year, MVP, and Cy Young Awards.
Johnson and Davis together stared at the Robinson painting with silent reverence, marveling at the expression on Robinson's face while appreciating the bright colors used by Holland to paint the lettering.
"I've seen a lot of paintings of Jackie," Johnson said. "This one struck me because of the facial expressions of Jackie – the intensity to win. I look at that painting and can hear Jackie saying, 'Yes, I'm in under the tag of the catcher and I'm a winner!' It's amazing when you meet the artist because he seems like such as easy-going guy, but you can tell he's very serious about his work."
When Holland hears about Johnson's words weeks later, he smiles. He savors the "second-hand" compliments, because he's never quite sure if the main subject likes the painting. Former Major League Pitcher Roger Clemens used a Holland painting as a backdrop to a press conference when he won a Cy Young Award. Later, Clemens posed his family in front of the painting and the resulting portrait became the family holiday card.
During the past two decades, Holland has portrayed some of the most famous names in sports, including Muhammad Ali, Tiger Woods, Jack Nicklaus, Mickey Mantle, Rocky Marciano, Roger Federer, Evel Knievel, Pele, Bruce Lee, Luc Robitaille, Cam Neely, Joe Namath, Joe Montana, Kobe Bryant, Magic Johnson, Michael Jordan, and Joe DiMaggio.
Holland's path to the world of professional sports is the unique story of a boy who couldn't participate in many playground activities as a youth because of a hip condition that forced him to wear a heavy mental brace on his leg. Holland figures his handicap heightened his other sensitivities. The childhood hobby of sketching and pencil drawings blossomed when he attended the Art Students League, the School of Visual Arts and Pratt Institute, all in New York City. As a young artist, Holland could not afford to hire live models. He chose photos from boxing magazines because of the action.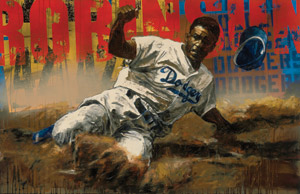 He moved to California and became involved in the Haight-Ashbury scene in the 1960's. Holland dabbled in sports artwork, but considered devoting his career to life as an illustrator when he received a commission in 1989 from the Los Angeles Kings for a series of paintings to decorate their offices. He also found a gallery that dealt with sports and entertainment art.
Holland and his wife J'Nelle started working on the idea of self-publishing art editions. He began with Ali and Holland's paintings and other limited-edition prints soon became a hot commodity among collectors. Holland has ever branched into other celebrity subjects such as Frank Sinatra and Steve McQueen.
If there is a secret to Holland's success, it's the childlike enthusiasm he still retains for the world of sports. In a way, he's making up for lost time on the playground, trying to picture himself in the moment when searching for photos to illustrate his painting.
"As a kid, you play basketball and imaging you're Michael Jordan," he said. "That's what I feel like when I'm starting to look for photos of athletes, trying to pick something out. For me, you're the athlete. You're sitting on your bed with a football, thinking 'Montana goes back to pass…' I didn't have that feeling as a kid. I do now. Every photo I look at, I feel that emotion. I wasn't interested in sports until I started working at it as an artist for the figure, and then learning about the athletes, and then I got more interested in the sports. Now, I love watching sports and the excitement. I like the combination of looking at a sports photo and the feeling of the athlete in that situation.
"When I went to look for Jackie Robinson, I was looking for several things. One, the feeling he was really sliding. I chose a photo for me that really showed the action. It was interesting from the athlete's point of view; that was very important. I remember moving the hat more backward and tilting from the photo I looked at so it just was more exciting visually."
For the Dodgers' Johnson, watching Robinson slide into home plate in Holland's painting triggered memories of his lifelong association with professional baseball. Johnson was a journeyman outfielder in 1965 when an injury to Davis elevated Johnson from Triple-A Spokeane into the starting lineup at Cincinnati's Crosley Field. The Sandy Koufax painting by Holland caught Johnson off guard because of the unique angle, at least from Johnson's perspective in left field.
"I played with Sandy in 1965 and 1966 and have a chance to see him every now and then," Johnson said. "But when he was pitching, I always played behind him in the outfield. With Stephen Holland's painting of Sandy looking in at the hitter, it was the first time I ever noticed the intensity on his face. I guess I'm getter old because I'm beginning to look at things that I used to take for granted."